St. Stephens Parish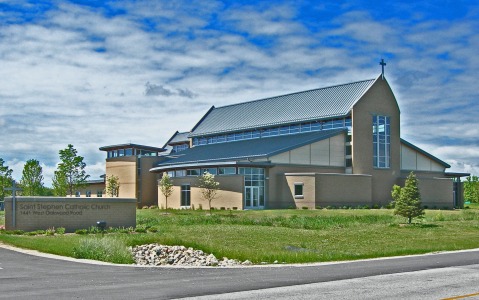 Website: www.saintstephenmil.org
Mission Statement:
St. Stephen Catholic Church of Oak Creek has a long and rich history as part of the Church of Southeastern Wisconsin. The parish was founded in 1847, when Wisconsin was still a territory, by a group of immigrants from Cologne, Germany. The original church was built on land located on Howell Avenue next to what is now the General Mitchell International Airport.
Due to the growing needs of the Oak Creek community, the parish was relocated to the corner of S. 13th Street and W. Oakwood Road in Oak Creek. Dedicated on November 22, 2009 by Emeritus Auxiliary Bishop Richard J. Sklba, the parish is home to almost 950 family units. As the area continues to grow, so too, does the parish.
The primary focus of the parish community is the Sunday celebration of the Eucharist. The Eucharist is the very heart of parish life and all that takes place in the parish community flows from our encounter with the Risen Lord in the Eucharistic Mystery. It is in the Eucharist that the Lord challenges us to be for the world what we eat and drink at His Table; the bread broken and the chalice poured out in loving service of our sisters and brothers. All that happens in the parish community is inspired and motivated by a Spirit-filled celebration of the Eucharist.
Our motto is, "We're Moved by the Spirit" as we continue to live and spread the Good News of the Kingdom in that part of the vineyard that the Lord has entrusted to our care.
I invite you to check out the various pages of our website and get to know us better. If you are new to the Oak Creek area and are looking for a parish community to be a part of, please consider joining us.
In the Heart of Christ,
Father Dennis J. Wieland
ALSA & Action DDS
Dear Jeff,
I wanted to send you a thank you for all the years past that you provided free printing for placemats for our parish Fish Fry. We generally serve approximately 3,000 people during the six weeks of the fish fry and every person gets a clean placemat as they are seated.
As a thank you we had included your business card on the placemats free of charge for your services. Hopefully it made people aware of your business. I am including a placemat with this letter for your review.
Again, thank you for your services.
Respectfully,
Sandra Grinker
Business Manager
St. Stephen Parish